To get your shirt
If you live nearby contact us and we can deliver a shirt or meet you at the Sala. We accept check, card, and cash. You may purchase through a PayPal payment portal but contact us, some shirts and sizes are back ordered: YogaSalaQuesta@gmail.com or 575-224-2102. T-shirts are unisex, soft and lightweight (cotton, polyester, and rayon tri-blend).
Astronaut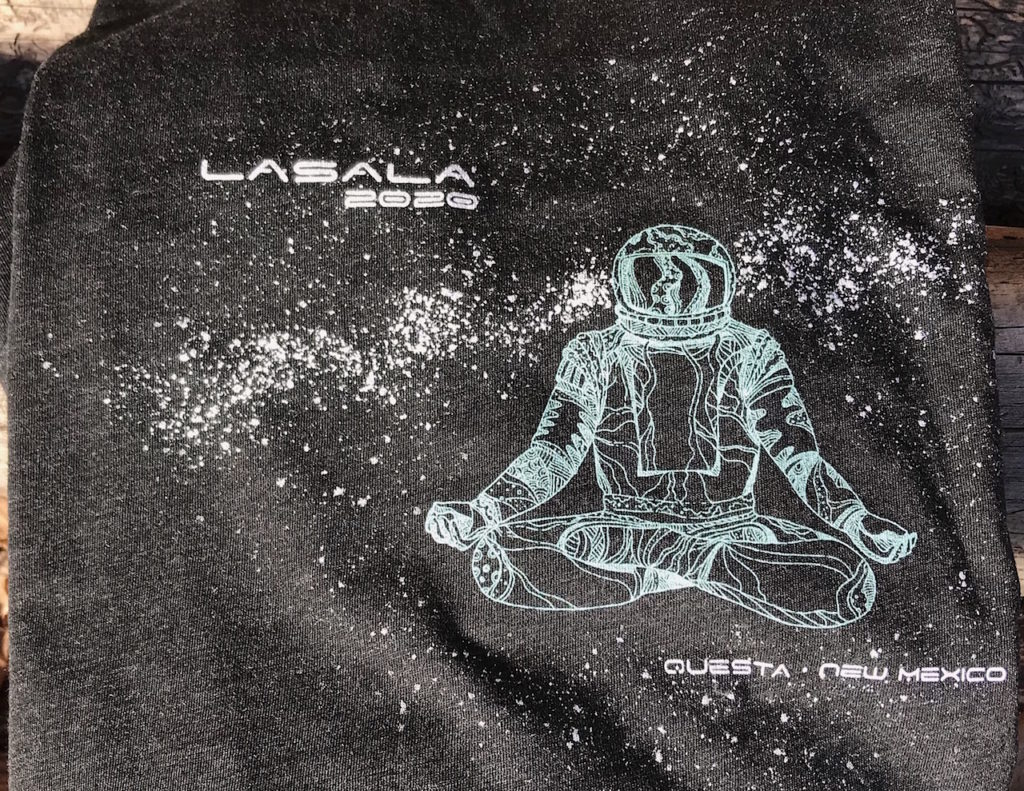 Astronauts describe an experience they call the Overview Effect, where they look from space to our tiny blue planet, our shared home, and see everything as it is – connected. Their zoomed-out perspective sees no boundaries – not between nations, or lives, but an interwoven, interdependent and delicate pattern of life. This beautifully designed shirt, thanks to EWilde Graphix, reminds us to zoom out. A perspective we learned in 2020: all is connected, all interweaves.
Columbine
This design celebrates a member of the Sala Garden and the mountain canyons in northern NM, the columbine. The original drawing was created by Madeline Miller during her year as the artist in residence at Ute A.I.R in northern New Mexico (in Sunshine Valley north of Questa). Find her Artist Statement/Bio on her website. Emily Wilde of EWilde Graphix created the repeating columbine pattern from Madeline's drawing.
Sala tree, dancing birds
The design of this shirt was inspired by the guiding vision for the Sala. Across many languages, sala refers to special places. It's several meanings contain the intention for our space in Questa.
~ Living room or dance hall
~ Sheltering place
~ Sheltering sala trees
The word sala appears in languages in Asia, Europe, Africa and beyond. It corresponds to the Sanskrit word śālā – a shelter or gathering place. Lines of poetry reference Sala trees; large trees with beautiful and potent blossoms; parts of the tree are used medicinally. In Spanish, sala means living room, another way to describe what we intend. Our vision is to support a culture of health and well being by building a comfortable space to be together. The work to make this shirt was collaborative – Sala founder, Gaea, and graphic designer, Emily Wilde used vintage naturalist illustrations.
There's a dark, emerald green option too!
Columbine Bag
These useful and lovely totes have Madeline's columbine in turquoise printed on black canvas. Dimensions: 10.5 x 14 x 5 inches, $15. They're large enough for groceries!
All our shirts are printed locally by Guerrilla Graphix.
More questions about ordering? Contact us.